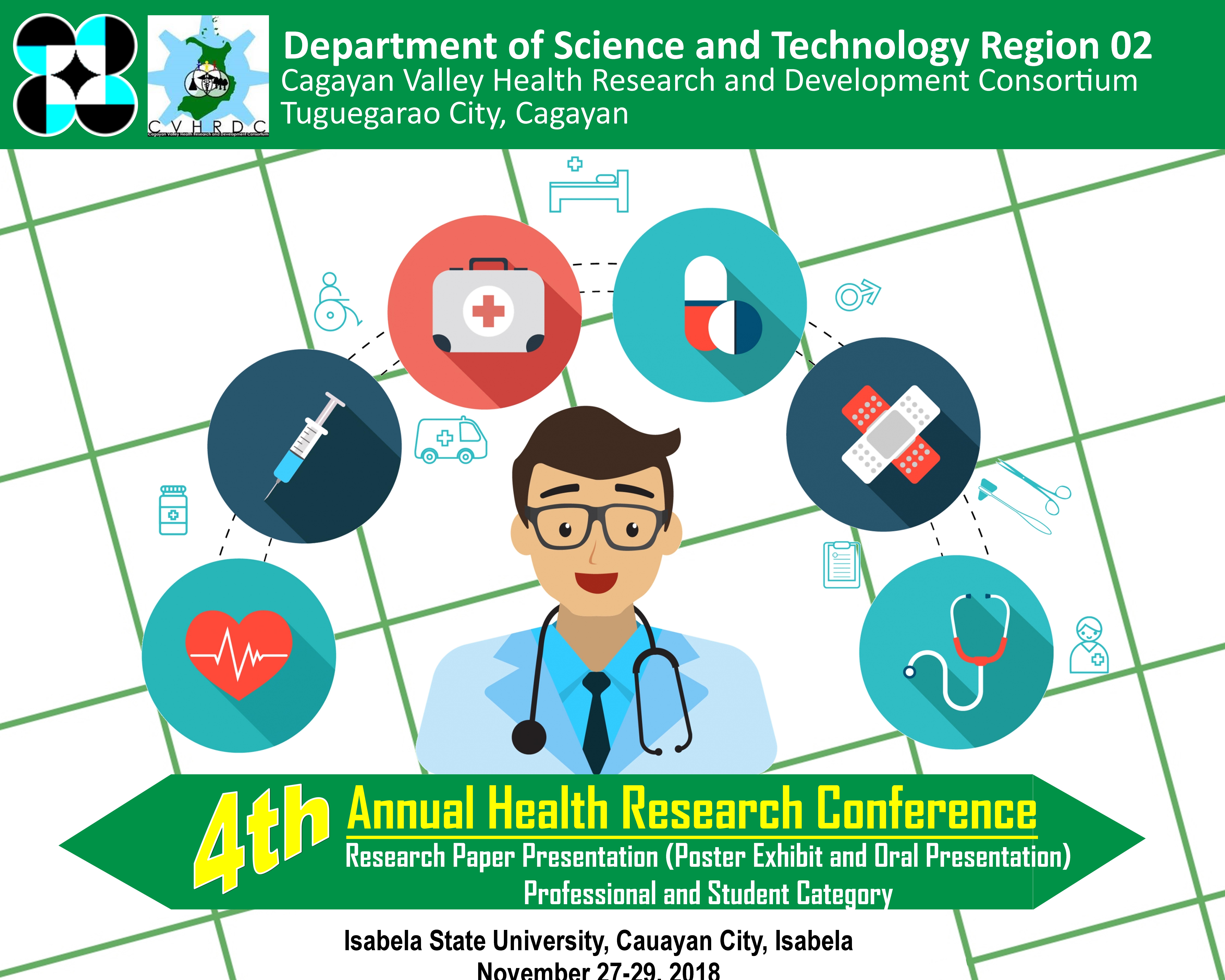 To promote the advancement of knowledge and encourage the continuing education of researchers/ students/teachers, in research and innovation in health that will empower and transform communities in the region, the Department of Science and Technology Regional office 2 (DOST-02) thru the Cagayan Valley Health Research Development Consortium (CVHRDC) will be having its 4th Annual Health Research Conference with the theme :"Breaking Health Disparities, Bridging Health Equity, and Building Resilient Communities thru Health Research and  Innovation" on November 27-29, 2018 at Isabela State University- Cauayan Campus, Cauayan City, Isabela.
In view of this, the program encourages researchers/ research experts to submit their completed health research proposal for Poster Exhibit and Oral Presentation under the Professional and Student Category at This email address is being protected from spambots. You need JavaScript enabled to view it. / This email address is being protected from spambots. You need JavaScript enabled to view it. on or before November 13, 2018.
Topic of interests are the ff:
Area 1: Infectious and Communicable Diseases                                                                                                                                
Area 2: Emergency Response, Disaster Risk Reduction Management for Health and Climate Change Adaptation         
Area 3: Maternal and Child Health                                                                                                                                                      
Area 4: Non-communicable Diseases                                                                                                                                                 
Area 5: Drug Discovery and Development
Area 6: Health Governance and Management 
Area 7: Health Financing
Area 8: Sexual and Reproductive Health
Area 9: Health Technology Development and Innovation
Area 10: Traditional, Alternative and Complementary Medicine 
Area 11: Nutraceuticals and Functional Foods                                                                                                                                     
Eligibility
For the Professional Category:
Research paper from the CVHRDC member-institution and funded by the PNHRS (PCHRD-DOST; DOH; CHED and UP Manila) or from member-institutions of RHRDCs and/or other local and international funding institutions
Completed research project within the last 3 years, but not featured in the previous CVHRDC fora
For the Student Category:
Undergraduate thesis done within the last 2 years but not featured in the previous CVHRDC fora
Research entries from institutions within or outside the consortium
Documentary Requirements:
Research presentation- One (1) hard and electronic copy of the research paper. It should be presented just like a manuscript for journal submission.
Poster exhibit- One (1) hard and electronic copy of abstract
Applicable research authorization/clearance/permit
For studies which involved humans
National Commission on Indigenous People (NCIP) permit
Biosafety clearance

For studies which used biological materials where genetic manipulation is involved or introduction of exotic or imported plants, microorganisms or animals
Bureau of Animal Industry (BAI) authorization
                        For studies conducted on animals
Gratuitous Permit

For studies which covered the protected areas of the Department of Environment and Natural Resources (DENR)

Deadline for submission of abstracts is on or before November 13, 2018
Notice of acceptance will be sent out on or before November 19, 2018
The qualified research projects will be selected based on the following set of criteria:
Provides solution to priority health problems identified in the RUHRA
Research results provided new ideas/knowledge leading to health policies and action
The output, outcome and the impact of the study have a relevant contribution to society and economy
MECHANICS FOR THE ORAL RESEARCH PAPER PRESENTATION
There will be a plenary session for the presentation of the qualified research projects during the PNHRS Week celebration
The time allotted to present the research project is fifteen (15) minutes only
The format of presentation is as follows:
In PowerPoint presentation with a maximum of 10 slides which contains the following: (1) Project Description, (2) Objectives of the Project, (3) Methodology, (4) Results, (5) Conclusion, and (6) Recommendation
Font Style: Black Arial Font, Font Size-20
The principal investigator MUST be the presenter during the contest proper
There will be a 10-minute question and answer session after each presentation-- one question each will come from the three (3) judges and one (1) question from the audience
The criteria for judging will include the following:
MECHANICS FOR THE POSTER EXHIBIT CONTEST
The principal investigator MUST be the presenter
Content

The poster should include the name of researchers and institution
It should give a brief description of the research in layman's language
It should cite reasons why such project was developed or why the study was conducted; the study's potential benefits in terms of its impact on health and quality of life, science or technology contributions or socio-economic benefits
The poster may exhibit the highlight of the study in a picture or colored presentation  (not smaller than 16"x 20")
Form

One poster panel will be allowed per entry
Poster size should be 2ft width by 4ft height
Use of tarpaulin is recommended
Participants are expected to bring their own adhesives and other mounting materials to ensure that the posters stay in place during the duration of the exhibit
For the official copy of the guidelines just go to: https://drive.google.com/file/d/101CKzi4yOo_0L2kBbDeLme50JyFjy_Gx/view?usp=sharing
For other details, please contact:
Ms. Clyde Beth B. Caraang
Phone: 09214103469/09264990796
Email: This email address is being protected from spambots. You need JavaScript enabled to view it./This email address is being protected from spambots. You need JavaScript enabled to view it.">This email address is being protected from spambots. You need JavaScript enabled to view it./This email address is being protected from spambots. You need JavaScript enabled to view it.