About PNHRS
Anchored on the principles of the Essential National Health Research (ENHR) on inclusiveness, participation, quality, equity, and effectiveness, the Philippine National Health Research System (PNHRS) is an integrated national framework for health research in the country. It is a convergence strategy that aims to promote cooperation and integration of all health research efforts and stakeholders in the country to ensure that research contributes to evidence-informed health policies and actions.
Objectives
The PNHRS aims to improve the health status, productivity and the quality of life of Filipinos by:
Ensuring that health research is linked to the health system needs;

Ensuring that investments in health research yield the most benefit;

Promoting good governance among health research organization through efficient, effective, transparent and ethical health research management system;

Engaging in national and international partnerships and networks for health research development; and

Ensuring sustainability of resources for health research (Sec. 5, RA 10532).
Vision I Mission I Core Values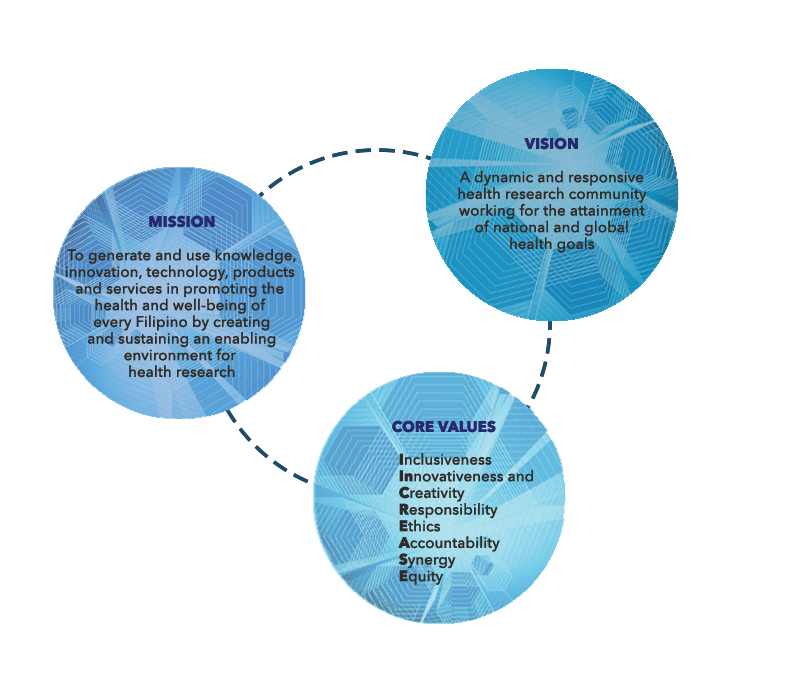 Strategy Map
The the Implementing Agencies, Technical Working Committees (TWCs) and the Regional Health Research & Development Consortia (RHRDCs) came up with the PNHRS Strategy Map and Scorecard for 2015-2019 which articulates the vision, mission, objectives and performance measures, in line with its mandate and core ethical principles.
In drafting the PNHRS Strategy Map and Scorecard, the multi-sectoral processes approach was conducted to ensure that concerns of various components of the system are factored in.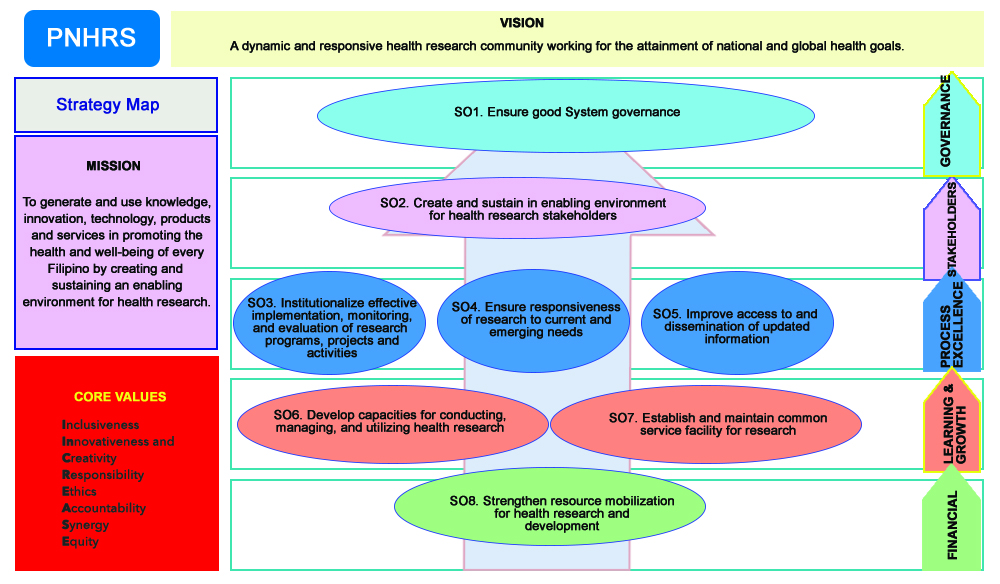 Strategic Objectives 2015-2019
Perspective
Strategic Objectives
Performance Measures

GOVERNANCE

Ensure good System governance

System Performance Rating

Percentage of achieved target in reference to approved plan of all committees

Percentage of budget utilization for health research

Number of accredited Ethics Committees at the institution/ consortium level

STAKEHOLDERS

Create and sustain an enabling environment for health research stakeholders

Stakeholders Satisfaction Rating to major PNHRS programs or service/s

Percentage of partner agencies that are implementing agreements with PNHRS (partnership with MOA)

PROCESS EXCELLENCE

Institutionalize effective implementation, monitoring and evaluation of research programs, projects and activities.

Proportion of Committees submitting accomplishment report on time

Number of institutions adopting the policies on protected time and other researchers and institutional incentives

Number of institutions with functional Research Coordination Office

Ensure responsiveness of research to current and emerging needs

Proportion of regional health research agenda (RUHRA) that is reflected in the NUHRA

Proportion of research results used as inputs to policies, plans and programs

Proportion of researches aligned with NUHRA and RUHRA relative to the total number of researches conducted

Number of technologies adopted

Proportion of Technologies Commercialized Achieving Market Success relative to commercializable research outputs

Percentage of IP registered over IP applications: Patent, Trademark, Utility Model

Improve access to and dissemination of updated information

Number of researches registered at Health Research (HERDIN) & Development Information Network &Philippine Health Research Registry (PHRR)

Proportion of researches published in peer reviewed journals with respect to total health research published, and completed (DOST, DOH, CHED, UP Manila and Other HEIs / RDIs from Consortia)

Percentage of studies published or cited by the media over total no. of researches

LEARNING & GROWTH

Develop capacities for conducting, managing, and utilizing health research

Number of researchers doing researches aligned with NUHRA and RUHRA

Proportion of graduates/ trainees with published and/or utilized researches (i.e. policy, product) with respect to total number of graduates / trainees

Number of graduates/trainees who pursued the following: a. Health Research, Health Research Management

Establish and maintain common service facility for research

Proportion of researchers coming from various institutions using the common services facility to include laboratories (libraries, equipment, etc.)

FINANCIAL STEWARDSHIP

Strengthen resource mobilization for health research and development

Proportion of health research funded over approved proposals (for DOST,DOH, CHED, UP Manila)

Percentage of annual agency budget allocated for PNHRS

Proportion of non-government resources mobilized relative to total resources generated national and international

Percentage of health research expenditure relative to total health expenditure
The Department of Science and Technology (DOST) and Department of Health (DOH) initiated the creation of a coordinated system for health research to contribute to the goals of an improved the quality of life of Filipinos. This coordinated system of convergence strategy is the Philippine National Health Research System (PNHRS). Formally began upon signing of Memorandum of Understanding (MOU) between DOST Secretary Estrella F. Alabastro and DOH Secretary Manuel M. Dayrit on 17 March 2003. In 2007, the Commission on Higher Education (CHED) and University of the Philippines Manila (UPM) joined as core agencies of PNHRS by virtue of a MOU signed by DOST Secretary Alabastro, CHED Chair Carlito Puno, UPM Chancellor Ramon Arcadio and DOH Secretary Francisco Duque III.
On 7 May 2013, President Benigno S. Aquino signed the Republic Act 10532, also known as "Philippine National Health Research System Act of 2013," which provides the institutionalization of the PNHRS. The Law was published on 16 May 2013 in the Manila Bulletin and became effective on 1 June 2013. Pursuant to Section 15 of RA 10532, the Implementing Rules and Regulations (IRR) were then crafted through a series of consultations with the stakeholders and key persons from the implementing agencies to prescribe the procedures and guidelines for the implementation of the PNHRS Act. On 30 July 2013, the IRR was signed by DOST Secretary Mario G. Montejo, DOH Secretary Enrique T. Ona, CHED Chairperson Patricia B. Licuanan, and UP Manila Chancellor Manuel B. Agulto. The IRR was published on 31 October 2013, making it effective on 15 November 2013. The PNHRS organogram composed of the Governing Council (GC), the Steering Committee, the Technical Working Committees (TWC), the Secretariat and the whole research community.
Today, the DOST through Philippine Council of Health Research and Development (DOST-PCHRD), the DOH through Health Policy Development and Planning Bureau (DOH-HPDPB), the CHED and University of the Philippines Manila-National Institutes of Health (UPM-NIH) form the PNHRS implementing agencies, with PCHRD as the lead Secretariat.