MALATE, Manila – The 1st Philippine Herbal Medicine Summit brought together herbal medicine researchers and consumers alike last 25-27 October 2016 at the Century Park Hotel, Malate, Manila.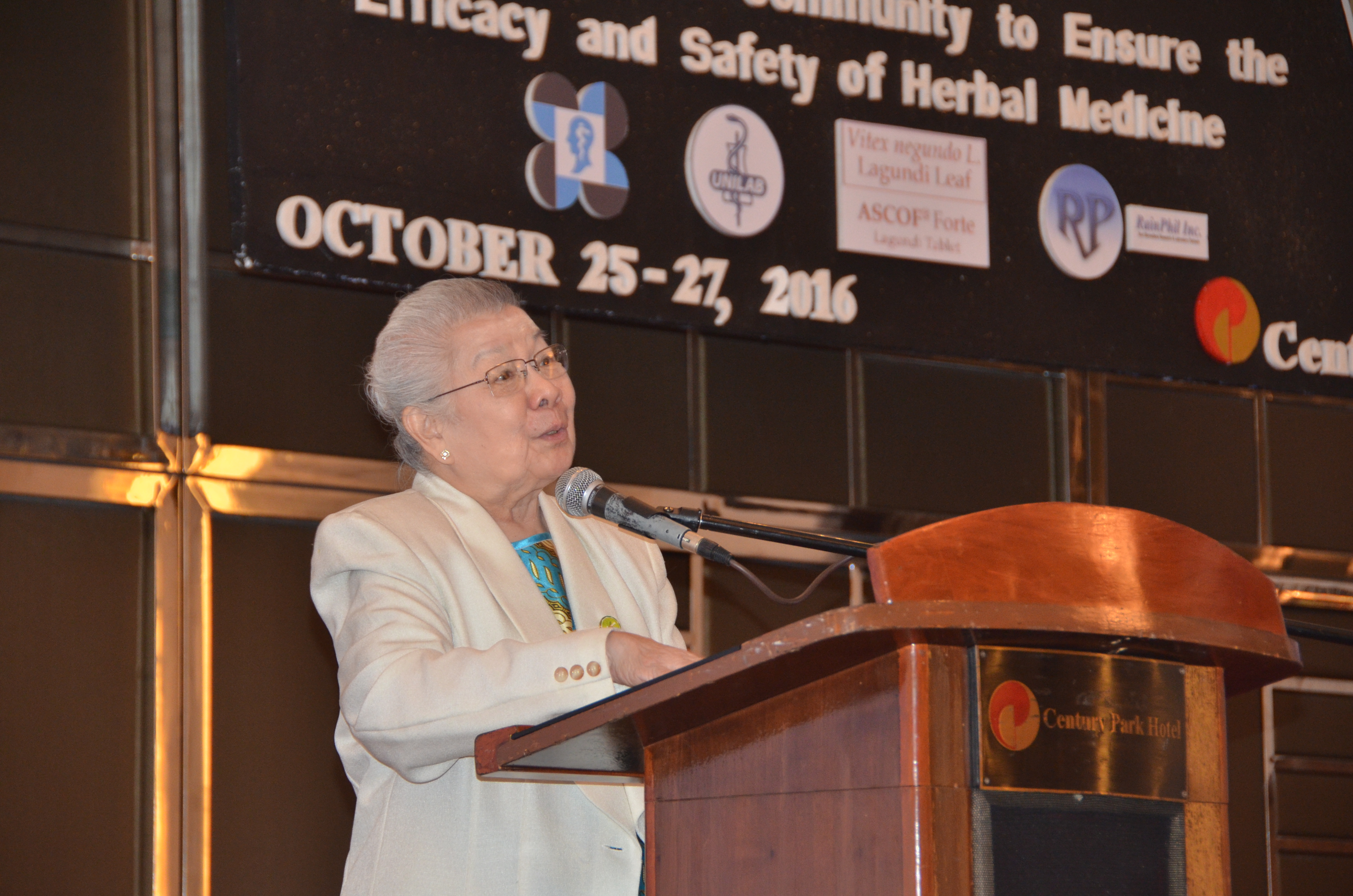 Dr. Nelia Cortes-Maramba delivers the Dr. Conrado Dayrit Memorial Lecture during Day 1 of the 1st Philippine Herbal Medicine Summit last 25 October 2016 at the Century Park Hotel, Malate, Manila.
Led by the Institute of Herbal Medicine – University of the Philippines Manila, the first herbal medicine summit in the country had discussions on how different stakeholders in the field can work together to ensure the efficacy and safety of herbal medicines.
The Department of Science and Technology (DOST) Secretary Fortunato T. Dela Peña sent his message of support through his keynote address delivered by Ms. Merlita Opeña, Chief, Research Information Communication and Utilization Division of the Philippine Council for Health Research and Development. "Today is the best day to start working together and become a community. Let's reform and reshape the landscape of herbal medicines' research in the country so that we can address the challenges of the coming generation in terms of provision of quality but affordable medicines using our own resources, " said Sec. Dela Peña in his message.
Dr. Nelia C. Maramba delivered the Dr. Conrado Dayrit Memorial Lecture and talked about the trials and triumphs of the National Intergrated Research Program on Medicinal Plants (NIRPROMP) when it started in 1974. In her talk, Dr. Maramba said that there is lack of acceptance in terms of herbal medicine research results. During the early years, the NIRPROMP team saw that validating folkloric claims of plants used as home remedies was a better approach in doing herbal medicine research, she said.
The Dr. Natividad De Castro Memorial Lecture was delivered by Dr. William D. Torres, with his talk on assuring quality, safety, and efficacy of herbal medicines through principles used in biopharmaceutics. Meanwhile, Dr. Irene Villaseñor, Chemistry Professor from the University of the Philippines – Diliman presented the different bioactive compounds of several Philippine plants which may be developed into new drugs with further research. Her lecture is in honor of National Scientist Dr. Clara Lim-Sylianco.
Dr. Juntra Laothavorn, visiting Professor from the Institute of Tropical Medicine - Nagasaki University and Former World Health Organization – Research and Training in Tropical Diseases (WHO-TDR) Clinical Coordinator, also reiterated in her lecture that there is a global need of gearing research efforts toward regulation and validation of herbal medicines, especially that some have reportedly caused adverse results when taken excessively. Dr. Laothavorn also shared how herbal medicine research thrived in Thailand. In 1960, Thailand halted herbal medicine research as there was no significant development/knowledge derived from the field. It was only in 1977 when the research field was revived. Since then, herbal medicine data management systems were reformed and were based on Thai Traditional wisdom and existing Thai herbs. Dr. Laothavorn also presented ethical considerations in doing clinical trials in herbal medicine research during her third plenary lecture.
Lectures on herbal medicine production, quality assurance, research methods, and data management were also tackled during the three-day summit. Ms. Merlita Opeña also presented the status of the APEC Regional Database for Herbal Medicine. The database will improve access to herbal medicine research, prevent piracy, and preserve traditional medicine knowledge in the Asia-Pacific region. Stakeholders were also encouraged to participate and contribute in the proposal for a National Herbal Medicine Research Policy presented by Dr. Adovich Rivera.
Summit participants signified their support to the annual conduct of the summit to foster research collaboration enabling the creation of safe, affordable, and accessible herbal medicines for the Filipinos.