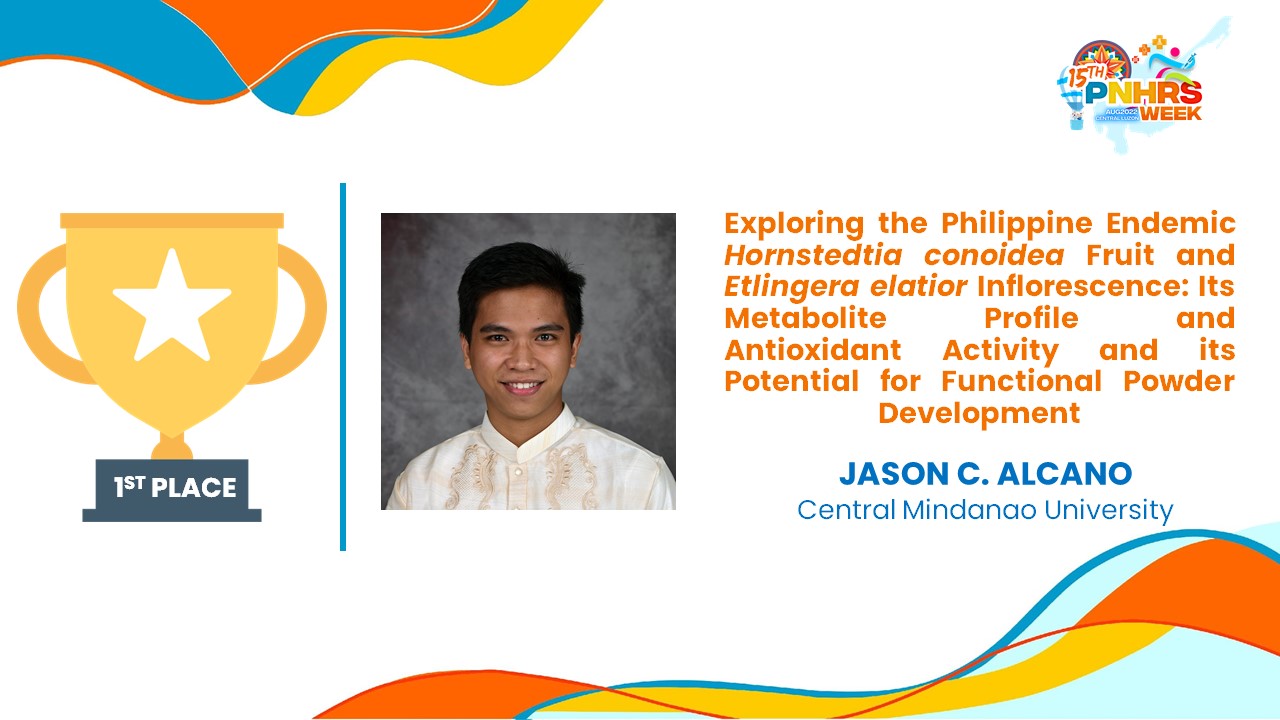 Central Mindanao University's (CMU) Jason Alcano wins first place at the Oral Research Paper Presentation Competition for the Grantees of the Department of Science and Technology – Philippine Council for Health Research and Development (DOST-PCHRD) Undergraduate Thesis Grant in Natural Products held via Zoom  last 9 August 2022.
Conducted as part of the 15th Philippine National Health Research System (PNHRS) Week, the competition was participated by grantees of the program who received the top six highest average scores from technical evaluators in 2019 and 2021. 
Alcano's winning research presentation entitled, "Exploring the Philippine Endemic Hornstedtia conoidea fruit and Etlingera elatior inflorescence: Its metabolite profile and antioxidant activity and its potential for functional powder development," focused on the metabolomic profiling of two understudied edible ginger plants. Parallel to the theme of the 15th PNHRS week, he emphasized how "it is only fitting to tap our own biodiversity, our local plants, to look for alternative medicine and food sources."
Meanwhile, Wenzel Perian of the Western Mindanao State University and Jerson Angelo Armecin of the Velez College Philippines bagged the 2nd and 3rd place in the competition, respectively. Their studies likewise focused on natural products, specifically on mango peels and seed extracts, and seaweed extracts. 
Highlighting how the research grant and competition serve as a platform to train young researchers, DOST-PCHRD Executive Director Dr. Jaime Montoya explains the relevance of building a pool of well-rounded researchers. "Along with assisting our young researchers in the conduct of research, we believe it is equally important to allow them to gain experience in communicating their studies which is the focus of this activity," he said. 
"Throughout the years, our researchers have proven that indeed, our talents across the regions are worth supporting. In turn, the Council will always support Filipino researchers of all ages in realizing their potentials and building their capacities in health research through programs such as the Undergraduate Thesis Grant and the Oral Research Paper Competition," Dr. Montoya added.
A replay of the competition may be accessed here.