Filipino scientific research efforts received a major boost as top science agencies of the national government held the first ever Balik Scientist Program (BSP) Convention at the InterContinental Hotel Manila on November 27.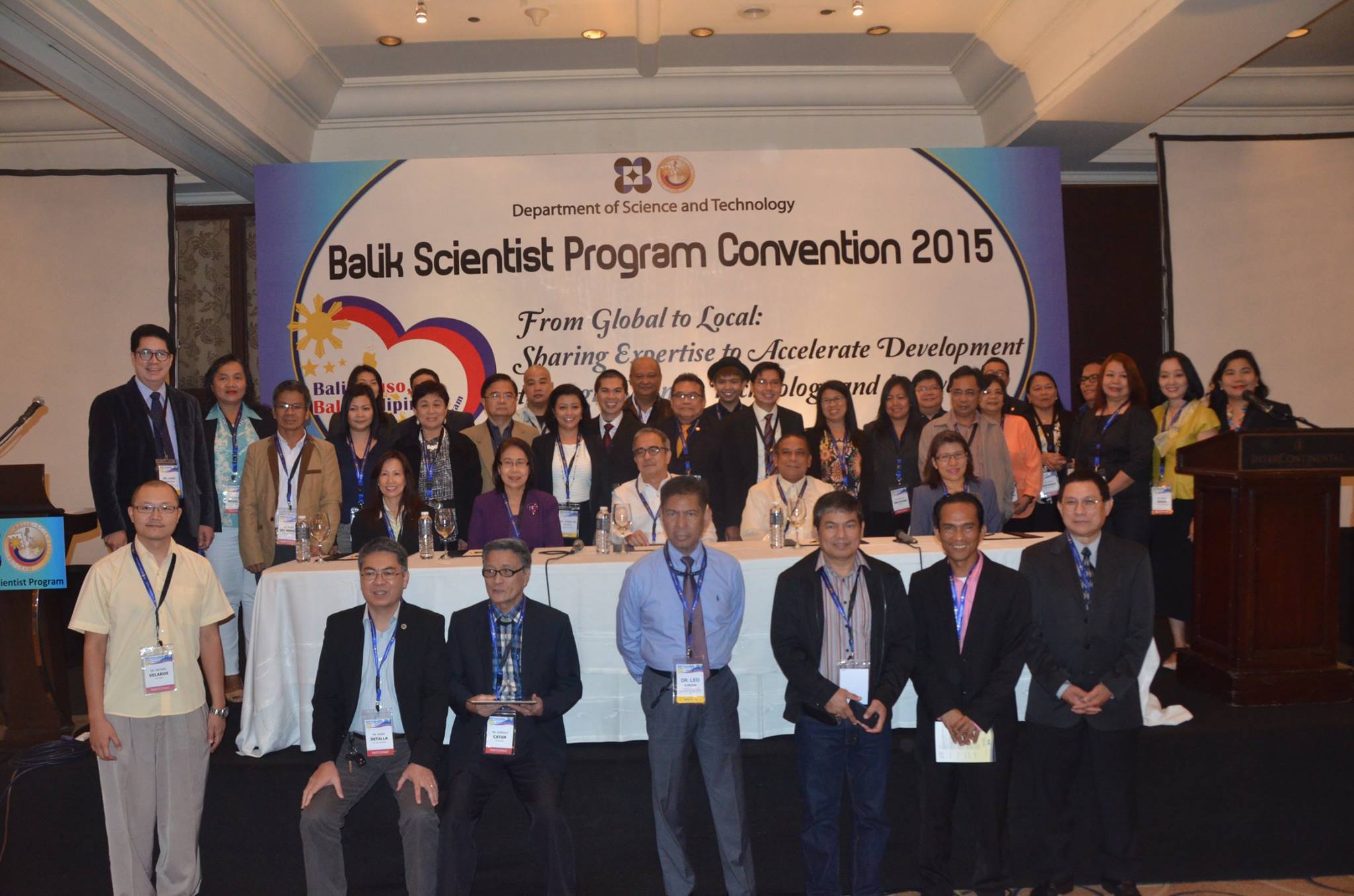 The speakers and participants of the 1st BSP Convention
The landmark event was feted by the Philippine Council for Health Research and Development (PCHRD), with the Philippine Council for Agriculture, Aquatic, and Natural Resources Research and Development (PCAARRD), and the Philippine Council for Industry, Energy and Emerging Technology Research and Development (PCIEERD) and with the Department of Science and Technology (DOST) Office of the Undersecretary for Research and Development of the Department of Science and Technology. (DOST)
During her welcome remarks, Dr. Amelia Guevara, DOST Undersecretary for Research and Development, lauded the altrusim of the Balik scientists, noting that the financial support extended by the program isminimal in comparison with what these returning scientists received abroad.
"Our Balik Scientists are not here for the money, but because they want to help. They want to promote science, technology and innovation… in order to improve the lives of the people," Dr. Guevara pointed out.
With the theme "From Global to Local: Sharing Expertise to Accelerate Development through Science, Technology and Innovation," the Convention aims to highlight the scientific, agro-industrial, and economic development through promoting researches of industries and other emerging technologies.
Among the featured researches were in the field of health such as the Designed synthetic peptides of Dr. Jonel Saludes, BSP awardee and Gregor Mendel Research Laboratory Head, Electronic data repositories of Dr. Romulo de Castro, BSP awardee and 3R Biosystems Technology Lead, and Genetic Counseling of Dr. Maria Melanie Liberty Alcausin, University of the Philippines Program Coordinator.
Present also to showcase their studies in the field of agriculture were Dr. Divina Amalin, BSP awardee and De La Salle University Manila Biology Laboratory Supervisor, Dr. Zenaida Magbanua, BSP awardee and University of the Philippines Diliman National Institute of Molecular Biology and Biotechnology Associate Professor, and Dr. Annie Melinda Alberto, Central Luzon State University Institute for Climate Change and Environmental Management Director.
Likewise, the researches in the field of industry, energy and emerging technologies were also presented. Among the presenters were Dr. Marlon Conato, BSP awardee and University of Houston Chemical and Biomolecular Engineering Research Associate, Engr. Leo Almazan, BSP awardee and Space and Naval Warfare (SPAWAR) System Centre Intelligence Office Division Project Engineer, and Dr. Jose Maria Reynaldo Apollo Arquiza, BSP awardee and Cornell University Department of Biological and Environmental Engineering Postdoctoral Associate.
The event was also graced with inspiring speeches delivered by Dr. Reynaldo Ebora, PCARRD Executive Director, Dr. Doralyn Dalisay, BSP  awardee and University of San Agustin Department of Pharmacy Head, Engr. Samuel Franco, Mariano Marco State University External Relations and Partnership Director, Engr. Albert Marino, PCIERRD Policy Coordination and Monitoring Division Chief and Hon. Mario Montejo, DOST Secretary.
"This is our path towards the future. We must constantly seek and cultivate the areas wherein our expertise can make the most impact," Sec. Montejo emphasized during his message. 
For more information about the Balik Scientist Program, please visit its website at http://bsp.dost.gov.ph/. ■