Residents of communities surrounding Mt. Bandilaan, the highest peak in Siquijor island, prefer self-medications and folk healers than a visit to the doctor when seeking medical cure.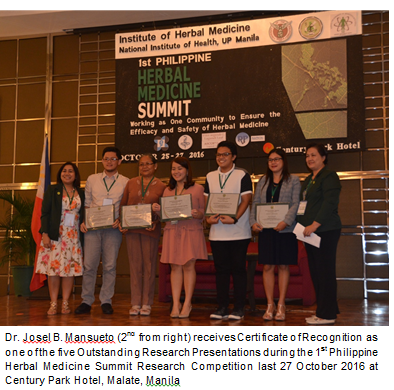 In a study led by Dr. Josel B. Mansueto, Dean, College of Arts and Sciences, Siquijor State University, doctors and hospitals are considered the last treatment option for the residents of barangays San Antonio, Cantabon, Cangmatnog, and Ibabao in Siquijor. Mt. Bandilaan, being a protected nature reserve, is home to several plants species that locals often use to treat several illnesses. In a Focus Group Discussion (FGD) conducted with the community residents, it was found out that these Siquijadnons resort to self-medication and folk healing through herbal medicines because such methods are readily available and more affordable for most of them. Also, the use of these herbal plants as cures had already been proven and passed on from generations to generations. This has contributed to the respondents' high regard for traditional medicine.


While they do not discredit the curative effects of modern medicine in treating the sick, respondents consider this as the last curative resort. In cases where the use of modern medicine cannot provide a cure for their illness, the community residents still return to herbal medication, study says.


The study, "Folk Healing Practices of Siquijor Island: Documentation of Philippine Traditional Knowledge and Practices on Health and Development of Traditional Knowledge Digital Library on Health" was awarded as one of the five Outstanding Research Presentations during the 1st Philippine Herbal Medicine Summit Research Competition at the Century Park Hotel, Manila last 27 October 2016.