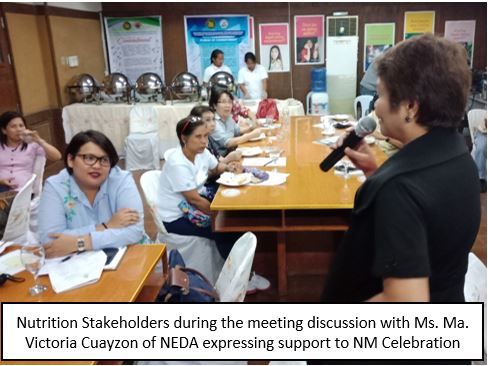 Palo, Leyte- "The sustained support and commitment expressed by the various stakeholders promises a successful celebration of this year's nutrition month and the realization of our efforts to accelerate and improve the overall health and nutrition status of our children and the entire people in Eastern Visayas," said by the Regional Nutrition Program Coordinator Dr. Catalino P. Dotollo, Jr. during the Nutrition Month (NM) Stakeholders Meeting, held on 19 June 2018, at the PopCom Conference Room, PopCom Compound, Government Center, Palo, Leyte.
Said expression came after the nutrition stakeholders from the local government units, non-government organizations, civil society organizations, among others, conveyed their support and participation to the month-long activities which will be highlighted with motorcade and launching activities, thematic talks, nutri-contests, and food garden advocacies.
The nutrition month celebration is pursuant to Presidential Decree 491, or the Nutrition Act of the Philippines, signed on June 25, 1974, which mandates the National Nutrition Council (NNC) to spearhead the nationwide celebration of the Nutrition Month.
This year's celebration, with the theme is "Ugaliing Magtanim, Sapat na Nutrisyon Aanihin!", underscores nutrition awareness through improved food access by increasing the number of households, schools, and communities engaged in food gardens. Specifically, the celebration aims to (1) encourage development of food gardens among families and in communities, schools, government offices, and workplaces; (2) mobilize various stakeholders to provide a fostering environment for sustainable food gardens; and (3) provide a platform to generate success stories of food gardens and recognize successful food gardeners.
Adventist Development and Relief Agency (ADRA) manager and nutrition stakeholder Eunice de Guia said that the celebration in July will not only give us awareness on the nutrition month's theme, but will also ignite advocacies for a continued commitment in building a well-nourished community.
Non-governmental organization who provided and offered material assistance and support were from UNICEF, Plan International, World Vision, ADRA, Samaritan's Purse, Zuellig Family Foundation, and Rotary Club of Kandaya.
In her closing message, the National Economic and Development Authority Chief Economic Development Specialist, Ma. Victoria C. Cuayzon, said that she can see a picture of success of the month long celebration with the overflowing support by the various stakeholders to celebrate the Nutrition Month in July."
As initial activity, a Regional Nutrition Month Launching is scheduled on July 03, 2018 which will highlight gardening techniques lectures and will showcase successful organic vegetable gardening in the region. (NASLabordo, NNC8)